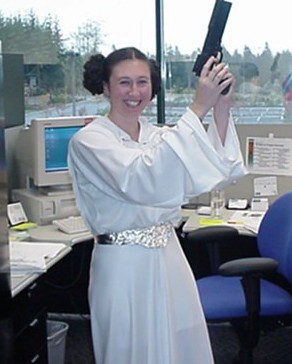 Happy Halloween!
Freaky Friday Five
1. What was your first Halloween costume?
I think I was Raggedy Anne when I was 4.
2. What was your best costume and why?
Probably Princess Leah. I dressed up as her in first grade (costume sewed by Mom) and again for 1999, 2000, and 2001 (when you're in different locations 3 years in a row, you can wear the same costume; especially when it took so long to sew by hand). It's my favorite because I love the character, and the costume turned out really well.
3. Did you ever play a trick on someone who didn't give you a treat?
No.
4. Do you have any Halloween traditions? (ie: Family pumpkin carving, special dinner before trick or treating, etc.)
I've always carved pumpkins, but the last couple years, Jeff and I have really
taken it up a notch
.
5. Share your favorite scary story...real or legend!
I can't think of a favorite, although when I lived in Richmond, I heard that my house was haunted. Sometimes when falling asleep, I'd smell a fragrance, and I think that was the ghost. It's wasn't scary, actually.
The photo is from 2 years ago. This year, I dressed at le Tour de France at our party last weekend. Today, I'm Wednesday from the Addams Family, and will be joining Uncle Fester, Lurch, Morticia, Gomez, and Cousin IT at lunch. Between the costumes and the candy, I have a feeling that very little work will actually get done today.