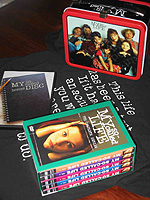 My So Called Collection
Despite many
customer complaints
,
Another Universe
has really come through for me. I paid for the complete set of
My So Called Life
about 1 1/2 (? can't really remember) years ago, and considered it a risk. After all, I just don't order things on line unless I'm pretty confident I'm working with a reputable company. While waiting for the disks to be available, I bought the t-shirt, which arrived immediately. I received the DVD's last fall, which is the right time to watch MSCL. I have vivid memories of watching the show when it first aired in my first real grown up apartment in Newport RI in the very memorable (for me) fall of 1994. I never really expected to get the lunch box and bonus disk, so when they arrived this week, I was pleasantly surprised. I don't know what I'm going to do with the lunch box (ebay?), but it's cool that I've gotten everything and more that I paid for all that time ago. Guess low expectations sometimes pay off.
Note:
While googling for links for this post, I ran into one of
Kris' posts
about her issues with Another Universe. I ordered based off of one of her earlier posts, so I found it kinda funny that
her site
was in the
top 10 of google links
.