The Proposal
Jeff and I had been talking about going to Victoria for a couple of years now. We had both been before, but it had been a long time ago, and there had been articles in the local paper about great brewpubs and bike rides in Victoria (separate articles, but we thought it would be fun to combine them). We've been pretty vague about wanting to go, however, planning for a trip "one of these days." At some point last summer, however, Jeff suddenly became insistent that we go this year, and as our open weekends were limited, we scheduled a weekend trip in September. His urgency provoked my first suspicion that something might be up.
We biked to the Clipper in downtown Seattle early the morning of September 17, without much time to spare, so we were a little cranky as we found seats (not together) just before the boat left. It was cold and grey with very low visability for most of the journey, but as we pulled into Vicoria Harbor some blue sky was starting to appear through the clouds. The day was looking brighter. We biked the easy mile or so to our guesthouse, charmed by the room (availabe early), the service, and the chocolates. We stashed our stuff and went on our bike ride.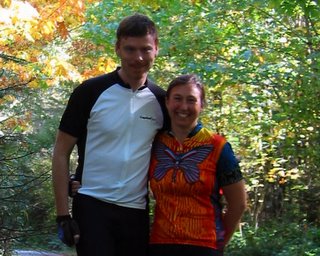 It was a beautiful afternoon and a lovely path winding through the woods and along a river. The leaves were just starting to change color and the Canadian maples were a lovely gold color contrasting with the deep green pine trees. We took a photo at the turnaround point. Not too long after we turned back for the return ride, I noticed that Jeff was no longer next to me on the trail. I looked back, and he yelled that he had a flat tire. I turned back and found him working on his bike next to a bench just off of the trail overlooking the river. I asked if there was anything that I could do to help him fix the flat, and he asked me to get a patch out of his patchkit in his saddlebag. I opened the patchkit and a shiny diamond looked up at me. I looked up, startled, thinking that I just saw something that I wasn't supposed to see (until later?). Jeff then came over, got down on one knee, and asked if I would be his wife. I started laughing (from surprise) and then crying and shouted yes at least once or twice. Fortunately, I had remembed to bring tissues along on the ride. Needless to say, the rest of the weekend was very special.
Update
: I forgot to add that pictures of the weekend can be found
here
.