Relax, Have a Homebrew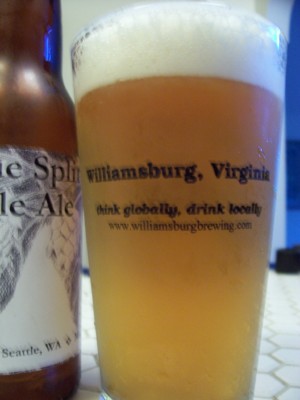 Friday night was the first taste of my latest homebrew: the first I've made in over 5 years. I used
Northern Brewer's "Tongue Splitter" kit
: a hoppy American style pale ale. The brewing process went well with only a couple minor hiccups (yeast mistreatment and foam overflow through the airlock). When I transferred the beer to a bucket for the dry-hopping portion (in the midst of packing for our trip a couple hours before we left for Japan), however, I discovered that the bucket's spout wasn't screwed in tightly and the bucket leaked. I placed the bucket in the deep sink and hoped for the best.
Well, the guys at the brew supply store were right: as long as all mishaps were "going out, not in" (they were) and I sterilized well (I did), the hops would take care of the rest. The beer tastes great: plenty of hops with a fragrant, citrus (mmm, grapefruit) overtone. There is not as much body as I'd like; next time I'm using twice the malt as the kit calls for (
a tip from Charlie Papazian
).
Thanks to
Jeff
for another
amazing label
!