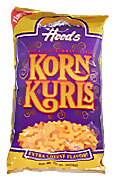 I can quit any time I want...
Who am I kidding; of course I can't. At least now I've discovered the smaller, "grab-bag" size of my new
favorite junk food
, so my binges are a little smaller. I'm not sure what makes them so tasty; perhaps it's the blue cheese.